If your display unit has the WiFi capability to stream its data to Weather Underground, the following procedure can be used to set up this connection.
To connect your display to your Wi-Fi:
Pair the sensor and the display per the manual's instruction. Confirm the display is maintaining 4 bars of signal strength.
Have the WUnderground Station ID and Station Key/Password with your WiFi Network Name and WiFi Network Password handy.
From a computer, (you can use a smartphone or tablet but this works best from a computer), open the network tab and click on the AcuRite WiFi Display Model Number.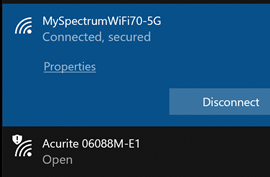 Open an internet browser and type in the URL - 192.168.4.1 -DO NOT PRESS ENTER

Press the connect button for the Display Model Number. Click the box to connect automatically.
After 10 seconds from the display connecting to the WiFi, click enter on the browser tab for 192.168.4.1
Once the AcuRite Wi-Fi display settings website (splash page) is open, type the WU Station ID and Station Key/Password and the Network Name and Network Password and click save.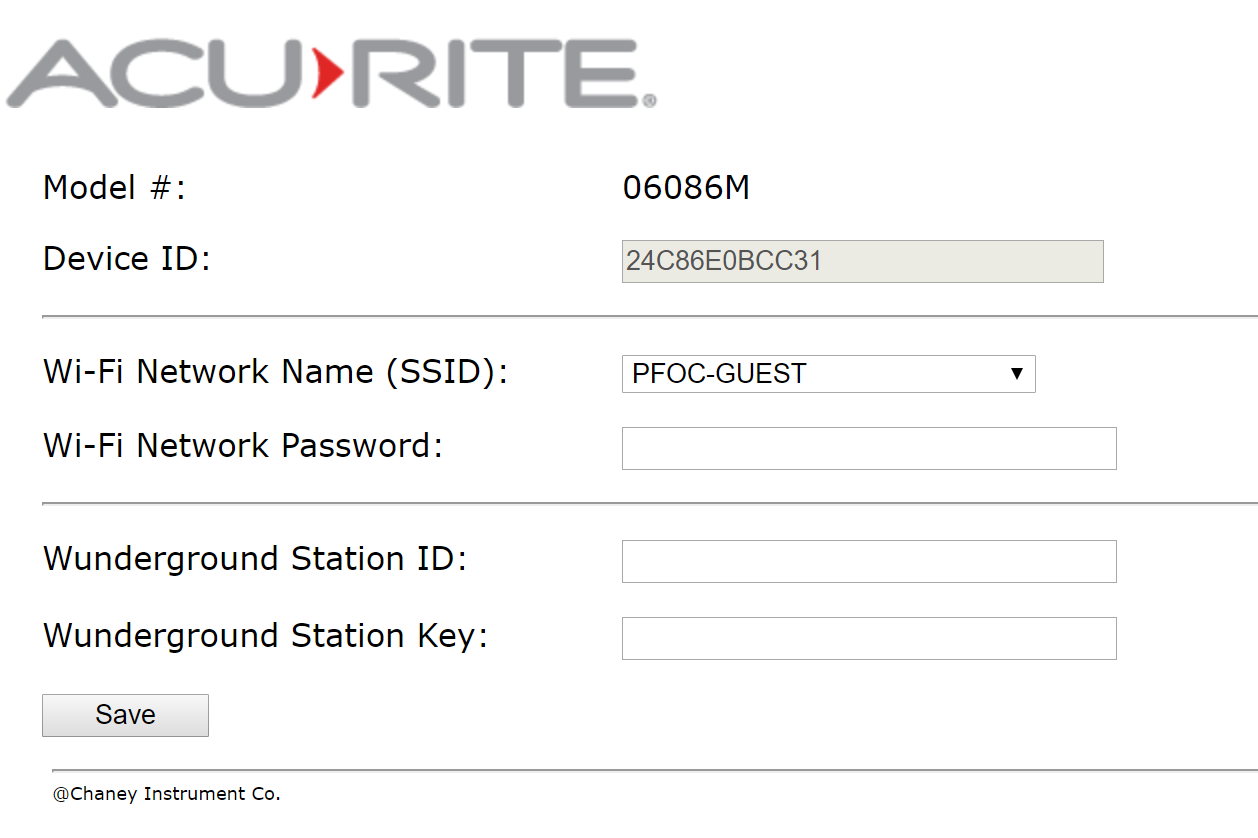 Troubleshooting Steps
If you do not see the display model under your network tab, please reset the display by pressing and holding the RESET button for 10 seconds, located in the battery compartment of the display. Date and time will need to be entered after a reset.
If you are unable to open the AcuRite Wi-Fi display settings website after connecting to the display, disconnect from the display under the network tab, open a different internet browser, enter The IP address 192.168.4.1 into the URL but DO NOT PRESS ENTER. Connect to the display under the network tab and wait 20 seconds before clicking enter on the internet browser with the IP address entered.
Ensure the network name (SSID) and password you've entered are correct. NOTE: Both network name and password are case sensitive.
Make sure DHCP is enabled on your router. Most routers have DHCP enabled by default.
Ensure your router is broadcasting a 2.4 GHz network. The weather station display is equipped with a Wi-Fi module that only supports 2.4 GHz wireless networks.
*If your display unit is Model #01544M or #06100M, please use the steps in the following link instead:
Direct to Wi-Fi 5-in-1 Weather Station Setup
A video tutorial is included in this link that you may find helpful even if you do not have the listed model.
If you are still experiencing concerns, please contact our U.S. based support staff by Submitting a Request or by chatting with our Live Agents. If you already have an open ticket with a support agent, please reply to the last email sent.