You can set up PC Connect to transfer the readings collected by your Iris® (5-in-1) Weather Station to a CSV file. The readings can be manually transferred or set to automatically transfer based on a set schedule.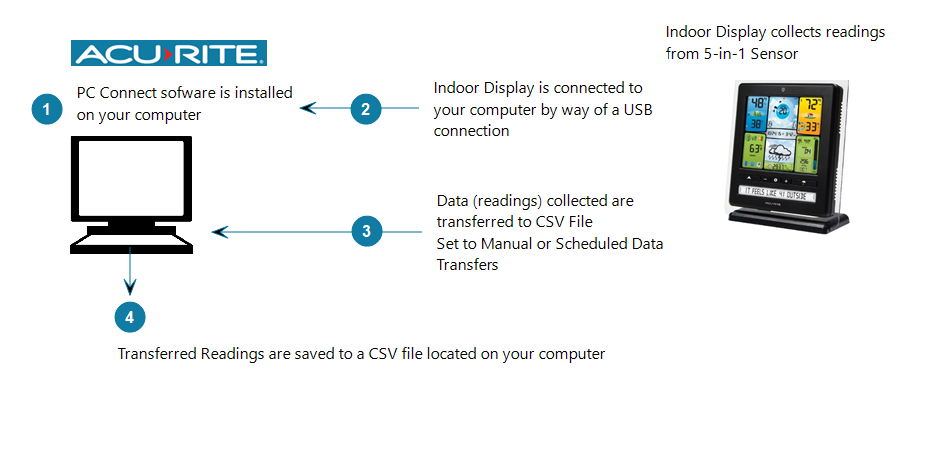 To avoid a loss of data, do not unplug the Indoor Display or interrupt the data transfer process.
Open the PC Connect software.

From the Data Transfer section, select Transfer Now.

Select where to save the CSV file.

The data transfer process starts automatically and a notification message appears when complete.

Once complete, select Close.
Open the PC Connect software.

From the Data Transfer section, select the checkbox Schedule automatic data transfers.

Set the schedule settings.

How often would you like data to transfer?
Select the frequency that readings stored in the Indoor Display are to be transferred to the CSV file. These readings are stored in 12-minute intervals and can be set to transfer every 12 minutes, 30 minutes, 1 hour, 12 hours, 24 hours, 7 days, or every 12 days.



How would you like each data transfer saved?
Data can be appended to a single file or transferred to a new dated file.



By default, files are saved to the location set during the installation of PC Connect. To save the file to a new location, select Choose Location.

NOTE: The display needs to remain connected to the computer, the PC Connect software must be open, and your computer must be on and have an Internet connection at all times in order to automatically transfer data.