3 Features Built into 1 Sensor
Temperature, Humidity & Wind Speed 
Unlike regional weather predictions from sources like the news or online, AcuRite forecasting products rely on sensors that collect organic data right from your backyard. AcuRite's sensor-based weather stations track specific sets of weather-related variables, like changes in temperature, humidity, and barometric pressure to generate a forecast with pinpoint accuracy.
The AcuRite Notos® (3-in-1) sensor is designed to be easy to install and use, without compromising any of the professional weather tracking features you want.
Step-by-Step Installation Directions
Press the release lever and pull off the sensor bottom for battery access.
Remove the battery cover and locate the A-B-C switch inside the battery compartment. Set the A-B-C switch to A, B or C. Be sure to choose the same channel that the A-B-C switch on the display is set to.
Insert 4 AA batteries into the sensor, following the polarity (+/-) diagram in the battery compartment. View the battery guidelines below. Close the battery compartment cover.
Secure your mounting pole into the ground or fasten the mounting base to a post or pole using the 4 longer screws included in the hardware bag.
Place the sensor on top of the mounting pole or mounting base. Install at least 5 feet off the ground for more accurate wind measurement.
Secure the sensor onto the mounting pole or mounting bracket using screws and a screwdriver.
Ensure the sensor is level. We recommend using a bubble level (not included). Your AcuRite Notos® (3-in-1) Sensor is now ready to use!
Installation Guidelines
After installing batteries into the AcuRite Notos® (3-in-1) sensor, you must choose a location to install the sensor. Choose an open location with no obstructions around the sensor for accurate wind measurement. To ensure that your Professional Weather Station performs at its best, follow these guidelines:
MAXIMIZE WIRELESS RANGE
Place units away from large metallic items, thick walls, metal surfaces, or other objects that may limit wireless communication.
PREVENT WIRELESS INTERFERENCE
Place both units at least 3 feet (.9 m) away from electronic devices (laptop, TV, computer, microwave, radio, etc.).
LOCATE AWAY FROM HEAT SOURCES
Position sensor away from heaters, air conditioners, chimneys, exhaust vents, asphalt, and concrete (surfaces that radiate heat).
LOCATE AWAY FROM HUMIDITY SOURCES
Avoid installing the sensor near pools, spas, or other bodies of water. Water sources may impact humidity accuracy.
LOCATE AWAY FROM SPRINKLER HEADS
DO NOT install the sensor where it will be sprayed by a sprinkler system. This may force water inside the sensor.
LOCATE AWAY FROM WIND OBSTRUCTIONS
DO NOT mount the sensor with obstructions around it. Consider a location that is a wide-open area, with few structures around to ensure accurate wind measurement.
INSTALLATION HEIGHT
DO mount the sensor at least 5 feet off the ground (higher is better for accurate wind measurements) in an open area NO FURTHER than 330 feet (100 meters) from the display console and/or AcuRite Access®. A typical installation would involve mounting the bracket to a secured length of 2 x 4 or 4 x 4 wood (not included). A length of 3/4 inch schedule 40 PVC pipe or a steel pole with an outer diameter of one inch (not included) can also be used instead of the mounting bracket.
The National Weather Service recommends mounting the sensor 33 feet above the ground with no obstructions within 100 feet for the most accurate wind speeds. We understand not all of our customers can mount this high. You will receive an accurate reading for the location your sensor is mounted including all surroundings. If you are comparing to a local news station, they are following the National Weather Service guidelines.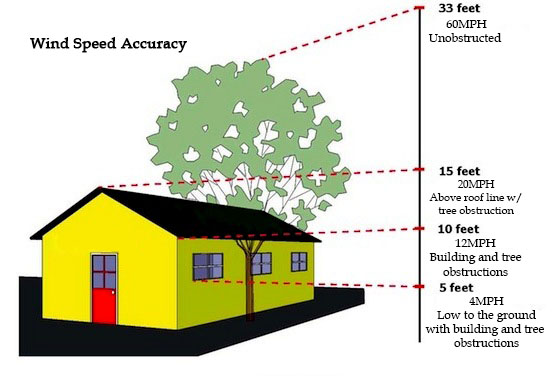 Battery Guidelines
Verify you are using fresh batteries in the sensor. Lithium batteries are recommended for installation locations where temperatures can go below -4°F/-20°C.
Verify you are using batteries with a nominal voltage of 1.5 volts.          
NOTE: Some rechargeable batteries carry low or inconsistent voltages that may not properly power the device.  
Mixing different battery types (brands, old/new, etc.) is not recommended.
AcuRite Notos® (3-in-1) Sensor Maintenance
HOW TO CLEAN THE SENSOR HOUSING
Clean the housing of the sensor with a damp cloth. Do not use caustic cleaners or abrasives.
INSECT PREVENTION
Insects may cause obstructions and interrupt data by nesting in or on the AcuRite Notos® (3-in-1) sensor. To limit this problem, spray the sensor with a household insect repellent. Consult the insect repellent instructions prior to use.
SNOW & FREEZING WEATHER
The AcuRite Notos® (3-in-1) sensor is designed to remain outdoors all year long and will not be damaged by freezing conditions.
WIND ANEMOMETER
Remove foreign matter from the outside of the sensor for free movement of the wind anemometer. If needed, use a small amount of spray lubricant, clear silicone, or graphite powder on the anemometer for improved movement.
BATTERY MAINTENANCE
Clean the battery contacts located under the battery door on the bottom of the sensor. Remove batteries from equipment that is not to be used for an extended period of time. Follow the polarity (+/-) diagram in the battery compartment. Promptly remove dead batteries from the device. Dispose of used batteries properly. Only batteries of the same or equivalent type as recommended are to be used. DO NOT mix old and new batteries or types of batteries (alkaline/lithium). DO NOT short-circuit the supply terminals.