If your Atlas High Definition Display or My AcuRite account are reporting low or inaccurate UV or light intensity readings from your Atlas Weather Station, please review the suggestions below. These steps can also be used if your Atlas Weather Station is not reporting any UV or light intensity readings.
Check the sensor for debris. Use a damp cloth to wipe away any buildup on the UV and light sensor. Below is a photo of the location for the UV and light sensor.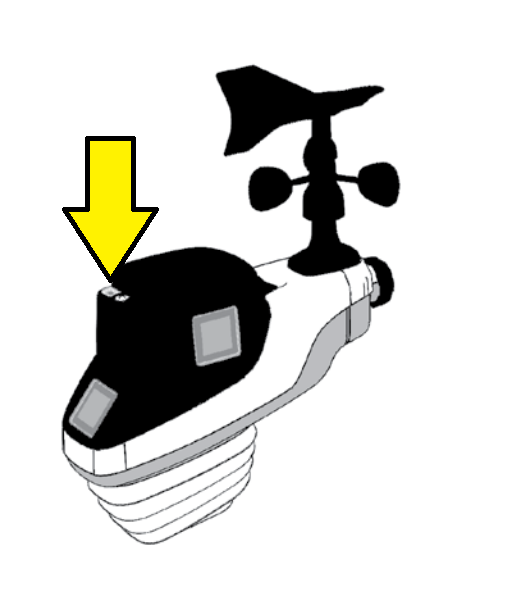 Confirm the sensor is not located in a fully shaded area. The UV and light intensity readings may be lower on a cloudy day or if an obstruction is blocking the sunlight from directly shining on the sensor.
Confirm the red light near the Atlas sensor's battery compartment flashes every 10 seconds and the Atlas display model 06061M maintains 4 bars of signal strength. (Wireless Signal Strength Indicator)
If monitoring from the MyAcuRite Dashboard, confirm the sensor is online and updating (How do I Check the Last Time a Sensor Updated?)
The UV and Light Intensity Ranges are as follows:
Light intensity
Dark/Night – 0-500 lux
Low Light – 501 – 5,380 lux
Overcast/Shade – 5,381 – 21,520 lux
Daylight – 21,521 – 43,050 lux
Direct Sun – 43,051 lux or greater
UV Index
Low 0 – 2
Moderate 3-5
High 6-7
Very High 8-10
Extreme 11+
Below is a link to review the UV Index in your area. (This is a prediction reading)
https://www.epa.gov/enviro/uv-index-search
If you are still experiencing concerns, please contact our U.S. based support staff by Submitting a Request or by chatting with our Live Agents. If you already have an open ticket with a support agent, please reply to the last email sent.